Generally for baby showers, you should stick to the registry, but if you are looking to get the mom a little something as well for the baby shower or as a practical visitation gift after the baby is born, nursing tops/dresses are a good option.  It's not likely that a new mom will have nursing bras and nursing friendly apparel on their baby registry, but nursing apparel makes it so much easier for a breast feeding mom and she will appreciate not having to worry about stocking up herself and can focus on the newborn baby.
You would think that an undergarment/ sleepwear company like Victoria's Secret would have nursing apparel, but they don't! It's a big miss on their part for the market, but I'm mentioning it here in case you try to shop there for nursing apparel.
There are several options for nursing gear. I personally prefer the drop-down clasp versions instead of the criss cross top options.
Bras
If you are close and comfortable with the new mom ( and close enough to know her bra size), nursing bras are a practical gift.  There are some basic nursing bras which are a safe gift, as well as cute options for the mom who would appreciate something a little more fashionable or for the woman who appreciates lingerie.    Here are some options to consider:
Motherhood Maternity: Basic nursing bra styles
Isabel and Ingrid: Basic nursing bra styles
Gap:  Basic options including sports bras.  Also Gap has a few options that are in collaboration with Isabel and Ingrid. (approx. $35-$50)
H&M: Basic and lacier versions.  Also has sports bra options.  The two pack options are a nice option as well. (approx. $10-$20)
Hotmilk Lingerie:  There are a lot of cute basic options as well as cuter styles for the fashionista. (approx. $30-$70)
You! Lingerie: A step away from the basic options, You! lingerie has a lot of cute options for the fashionista mama. (approx. $40-$60)
Camis/ Sleepwear
I lived in nursing camis with shelf support when I was breastfeeding.  These are more comfortable than bras for wearing around the house, and easy to feed baby without having to adjust too much clothing.  I was lazy to change out of the camis when going out so often I'd layer a cami with a t-shirt or cardigan and go out.  Even though this is a category for sleepwear, this is more like all day wear for a new mom who is home often taking care of baby.
My favorite cami was from Gap.  They come in a variety of colors and I felt like it gave me enough shelf support.  These do run a little big so a petite mom may find even their XS too big.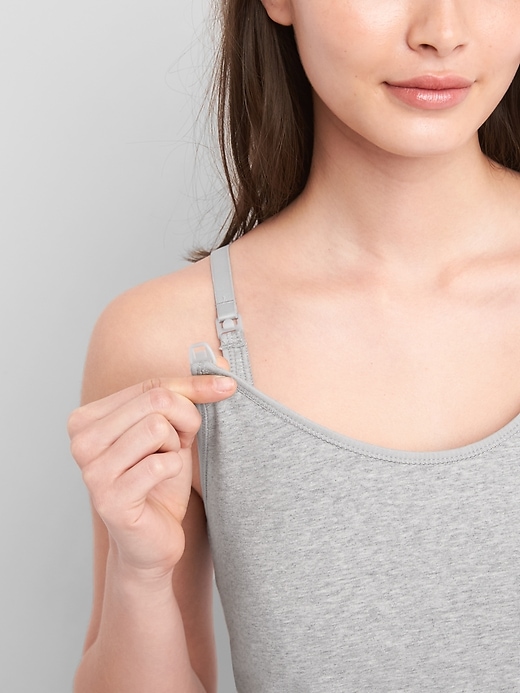 Similarly, Gap has sleepwear that is super comfortable as well, with similar clip down straps for nursing.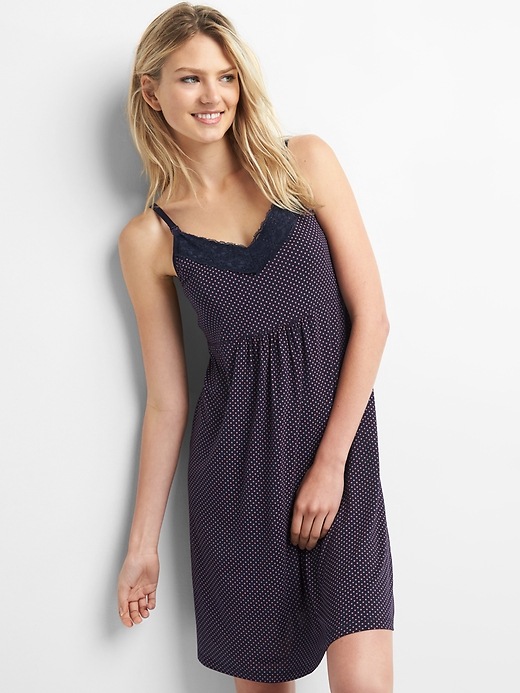 Ingrid and Isabel also have a Beyond the Bump set which would make a great gift because it includes a cami and belly band as well as an additional crossover bra:
Here are some additional options:
Motherhood Maternity Women's Maternity Clip Down Nursing Tank Top Cami
You! Lingerie Nursing Tank Top for something a little different from your basic nursing camisole.
Target carries several good options as well.  This one from Medela is a nursing tank top with slimming shapewear which my friend loved and re-bought:
Tops
For moms who may not like to go out in a camisole but may prefer to have something more fashionable but still nursing friendly, there are several options.  Henleys, button down tops, and loose fitting tops are generally nursing friendly.  Clip down and wrap over tops generally are sleeveless, and for tops with sleeves, usually there is an opening from the side or the top is double layered or there's a buttoned wrap.  My only issue with some of the nursing tops in the market is there isn't built in support, which I personally feel I need so I have to wear something underneath that provides additional support.  That said, nursing tops are great when you want to be discreet.  Here are some examples of nursing tops:
Gap: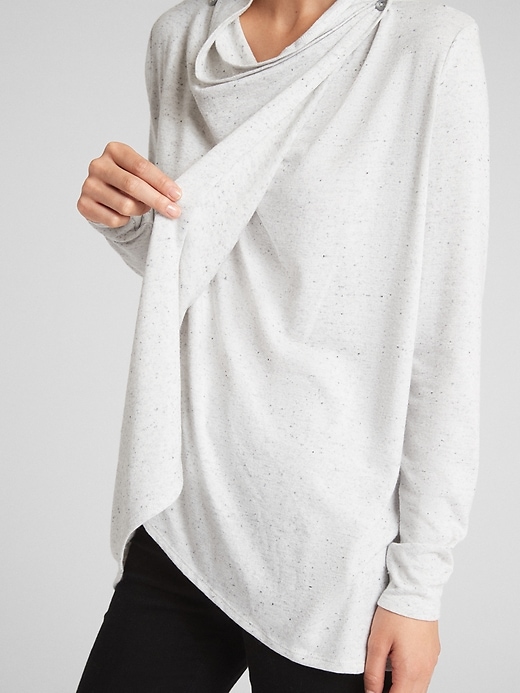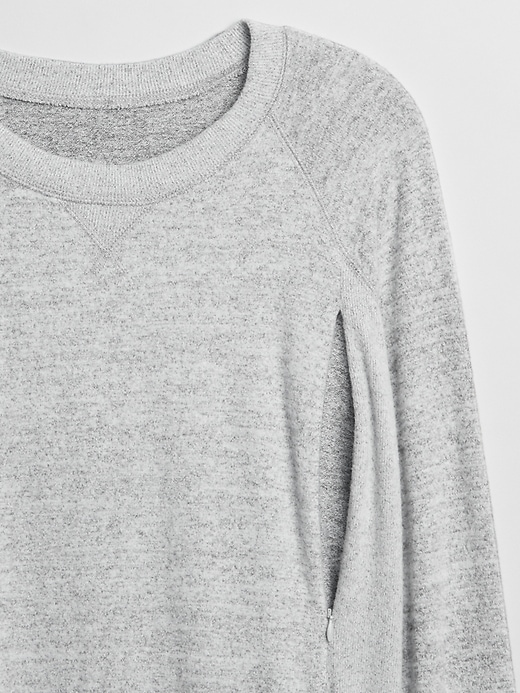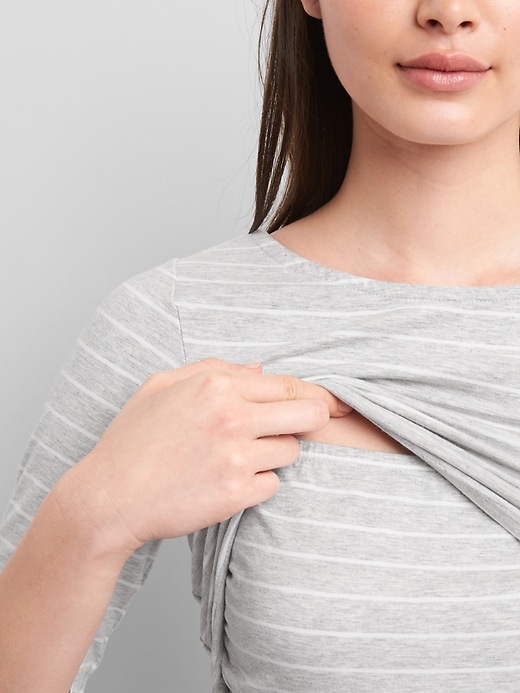 This one would be ideal for layering with a camisole
H&M:
Belly Bandit has a nursing top that doubles as shapewear! Genius.
Dresses
For women who work in a professional environment or need to dress up for an occasion, it can be hard to find suitable nursing dress.  Tip: most wraparound dresses are convenient for nursing.  Here are some options for nursing dresses:
Gap: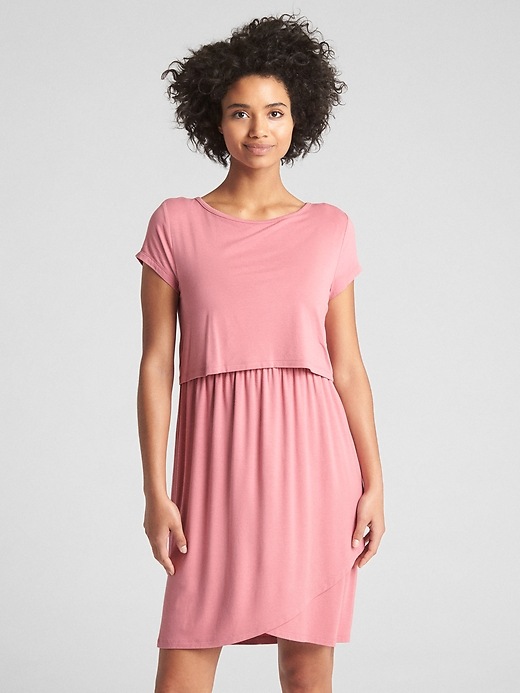 H&M:
Nordstrom has a pretty wide selection as well
Accessories
The NursElet is a clip that attaches to any shirt and helps hold the shirt up for nursing and pumping.  When it is not in use, it can be worn as a bracelet, and it's helpful for moms to switch hands to remind them which breast to feed off of next.
NursElet Nursing Bracelet